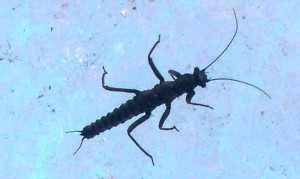 These are the secrets of one of the most fascincating extremophile of the planet, the only thing that survives insert in the glacial ice. In Villa O'Higgins, we are looking for.
The obsession of explorers in the search for fantastic inhabitants on extreme territories throughout the world, has led to the appearance of mythical creatures such as the already legendary Abominable Snowman, the Yeti, Foot Large and other amazing beasts on icy deserts in the mountains, high latitudes of the planet or at the bottom of unknown lakes.
The Patagonia, distant, immeasurable, and unknown, has not been foreign to the search for those strange people in this country, was a French expedition, 2001 in Torres del Paine, who looking for the secrets of the glaciers found an incredible creature to 40 meters under the surface of the ice, which they called "Dragon of Patagonia".
However as ostentatious namen, Patagonian dragon is a small insect of approximately 15 mm whose scientific name is Andiperla willinki. It was first described in 1956 by the French biologist Aubert Willink, based on a sample obtained by the Upsala Glacier, in the province of Santa Cruz, Argentina. For years he believed extinct, however the French expedition he found it in a crack glacier and made it famous.
There are new records, extending the range of species distribution and placed on the three ice fields of the extreme southern Patagonian: North, South, and Cordillera Darwin, in addition to peripheral glacier masses. In our area, there are scienphic records on the glacier O'Higgins and verbal communications on the glaciers Tiger and submarine, in the vicinity to Villa O'Higgins.